You can utilize the UTM manufacturer element to consequently really make your UTM boundaries.
How can I shorten a link with UTM tags?
Nowadays, because it is very common to monitor links, it is very important to analyze the short links that are created by Epsi.link, and the good news is that this is also possible in the case of UTM TAG, and you can create short links of these types of links.
The epsi link shortener site works like a UTM tag and in addition to shortening your link, it provides the possibility of monitoring the link and complete analysis of the address of the site you are looking for.
Read more about the features of Epsi short link
you can utilize the UTM manufacturer element to consequently really make your UTM boundaries.
You can create different campaigns on the epsi site and by creating short links you can check all campaign performance, site traffic and other things.
What is UTM tag?
UTM codes are text strings that are added to the ideal URL and the site supervisor can follow their traffic in view of the UTM link.
By using UTM link, you make sure that your data is displayed in the preview section of Google Analytics.
UTM gives you the opportunity to monitor your site's traffic with the help of Google Analytics and even know the cause of this traffic and which page has the most traffic.
UTM stands for Urchin Tracking Module, which belonged to urchin company, which was bought by Google in 2005, and this software later created Google Analytics.

Why should we use UTM in our links?
Considering that the activity in social networks has increased and the costs spent on different campaigns must be managed, it is necessary to control the landing pages more carefully. With UTM, we can have a more detailed review of each link created.
As you know, there are cookies in Google that come to links and monitor incoming traffic, now by activating UTM, we can customize this review more precisely.
UTM features achievement:
Where is the source of incoming traffic from?

Which of your campaigns contributed to more entries?

Which route was used to reach you?

Which keywords were more useful and better?

On which page users clicked and visited the most
Essential UTM codes are divided into three parts:
Source, which monitors the source of site traffic.
Medium, which helps you to understand where and what media your incoming traffic came from.
Campaign, which helps you to accurately understand which campaign the incoming traffic came from among the other campaigns you have.
Also, you can use some UTMs as you wish, such as: Content, which helps you monitor your attractive texts that have the most feedback & TERM that focuses on your target keywords.
In what sectors are UTMs used the most?
Of course, social networks are one of the most important parts that we can include the relevant link in our profile by using UTM on the landing page of our site.
The use of UTM in email marketing is also common and with this method we can monitor how much traffic was from email marketing.
UTM is also very useful for monitoring banner and online ads.
How to use UTM codes in link building?
In this section, we will examine the UTM coding method, although at the beginning of the article, we mentioned the EPSI.LINK site, which you can easily check the performance of your site by creating a short link.
There are online tools that can easily and automatically create UTM links. For example: Use Campaign URL Builder or URL Builder in Google Analytics.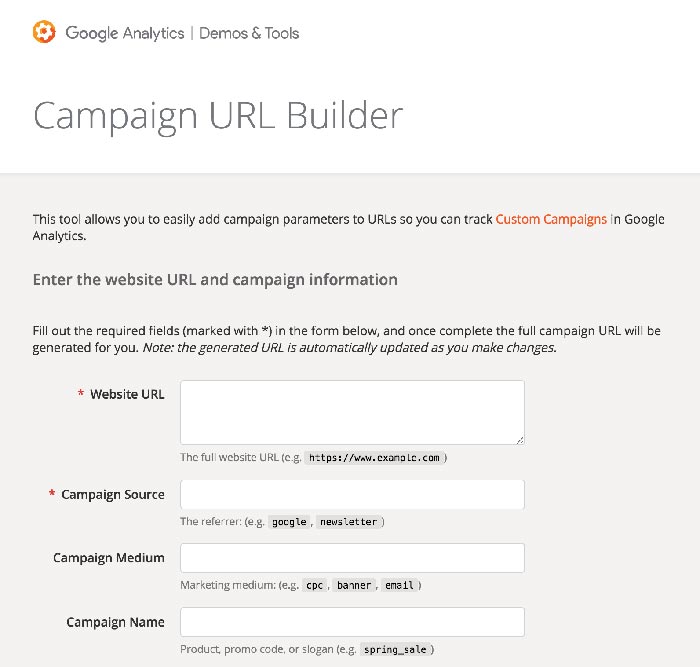 Then it is enough in the Google Analytics management panel in the path:
Go to: Acquisition > Campaigns > All Campaigns.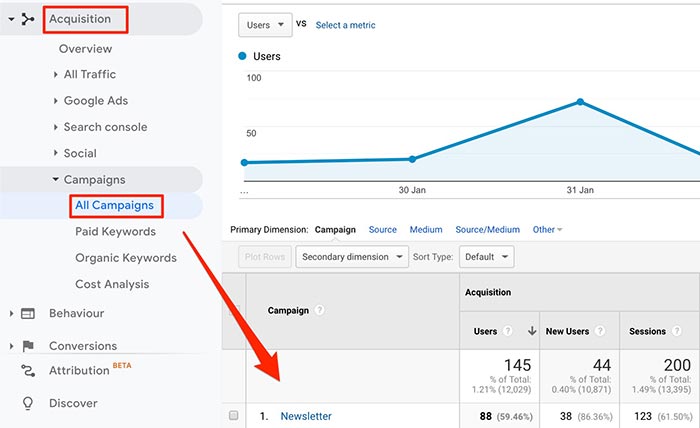 So that you can have full monitoring of the UTM set up.